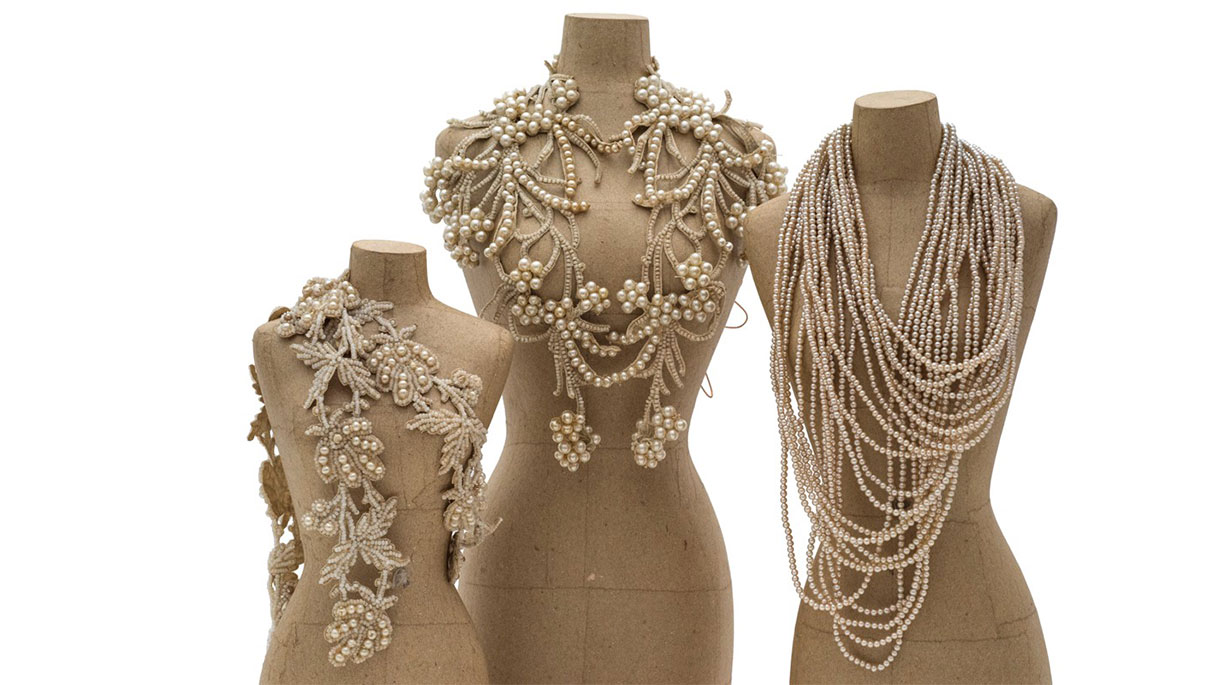 Behind the Seams Tours
Past tour
Join members of the exhibition team and an industry expert or two for a unique behind the seams tour of The Bowerbird and The Bride exhibition. Uncover secrets from the studio of award winning costume designer and fashion collector, Marion Boyce. You will also experience specialist insights into the period and vintage wedding dresses and accessories on display.
Dates and times
All tours SOLD OUT
Morning tours 9 – 10:30am
SOLD OUT Saturday 14 July with Christopher Salter and Paul Hunt
SOLD OUT Saturday 21 July with Christopher Salter and Lydia Pearson
SOLD OUT Saturday 11 August with Dr Michael Marendy
Evening tours 6:15 – 7:45pm
SOLD OUT Thursday 19 July with Christopher Salter and Vanessa Loh
SOLD OUT Thursday 2 August with Christopher Salter and Chloe Borich
SOLD OUT Thursday 16 August with Dr Michael Marendy
Tour facilitators
For close to 20 years, Christopher has enjoyed a career across the arts and cultural sector including museums and galleries, live performance, theatre, and dance at both an executive and board level. In his last institutional role as Deputy Director of Museum of Brisbane he oversaw the 2013 redevelopment and relaunch of the organisation in the newly refurbished Brisbane City Hall. In this role, he also developed and curated the national award-winning exhibition Costumes from the Golden Age of Hollywood, as well as securing and rehousing the Easton Pearson archive, one of the largest known donations of contemporary fashion to an Australian museum. Christopher has worked with Marion Boyce as co-curator of The Bowerbird and the Bride. He is also currently undertaking his doctorate in fashion and costume curation through QUT.
Recently graduated from QUT, Chloe Borich is a writer and emerging curator in contemporary fashion practice. She's interested in the complex relationship between art and fashion. Chloe is interested in presenting contemporary fashion issues under a critical yet accessible light to generate proactive, educational dialogues about material culture. Chloe has worked closely on The Bowerbird and the Bride since its inception. Her position as curatorial assistant on the project has seen her undertake a variety of research, writing and installation tasks.
Lydia Pearson is a fashion designer, entrepreneur and an iconic figure of Australian fashion. After graduating with a Bachelor of Fine Arts from the University of Queensland, she moved to France to follow a postgraduate course at the Sorbonne University in Paris. Shortly after that, she established her eponymous label and commenced to wholesale in Australia and opened her first boutique in Brisbane. In 1989, she began the Easton Pearson label with Pamela Easton, and in 10 years they were exporting the label to the US, Asia and showing in Paris Fashion Week. In 2009, Easton Pearson had a major retrospective exhibition at GOMA in Brisbane. Since 2015, she has joined the QUT Fashion Design teaching team.
Dr Michael Marendy's working background has been in four distinct areas: clothing design, fashion education, textile conservation and museum curatorship. For 15 years he taught in the TAFE and University sectors, as well as working as a clothing designer and textile conservator. Examples of work executed during the past five years include Ruth Stoneley: A Stitch in Time (2013) and Quilts 1700–1945 (2013) at the Queensland Art Gallery; Future Beauty: Thirty Years of Japanese Fashion(2015), Marvel: Creating the Cinematic Universe (2017) and Patricia Piccinini: Curious Affection(2018) at GOMA. In addition to these projects, Michael has given numerous lectures on conservation and dress history, as well as conducting practical conservation workshops throughout Queensland.
Paul Hunt is renowned as Brisbane's leading bespoke bridal and special-occasion fashion designer, bringing his brand of understated, sophisticated Parisian chic to women around Australia. Paul divides his time between his studio in Brisbane and Paris, where he sources fabrics and finds the inspiration for his sought-after and award-winning designs. Using intricate handcrafted embroidery, embellishments and fine details, Paul creates breathtaking bridal gowns, unforgettable evening wear and custom-made day wear for all occasions.
Vanessa Loh is a Costume Designer for both Film and Television. She is interested in the human condition and how this can be expressed through clothing. She has worked within a diverse range of productions from network dramas, independent features, tight-deadline commercials and music videos. Her recent credits include costume design for Safe Harbour (2018) for SBS Australia and Australia Day (2017) starring Bryan Brown.
Place
Old Government House
Dates
Saturday, 14 July 2018 - Thursday, 16 August 2018
Cost
General $38
Concession $33
Group 10+ $28
(includes light refreshments and admission to the exhibition)
Limit of 25 people per session