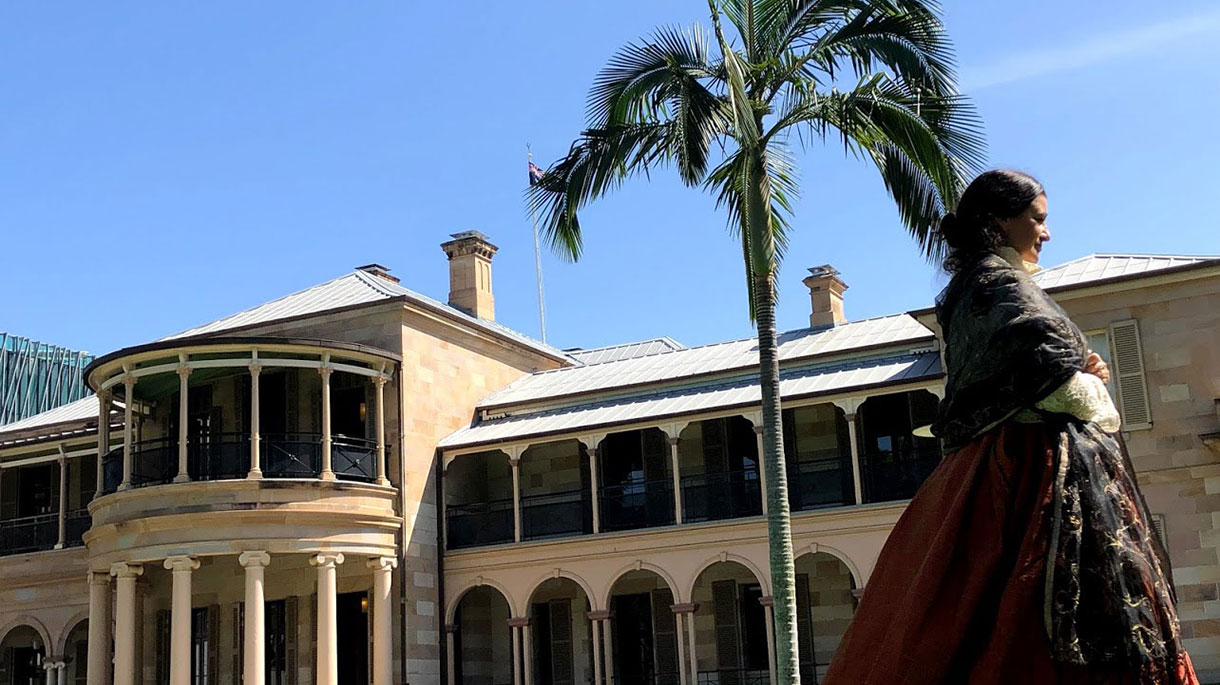 Lady Diamantina Bowen Tours
Past tour
As part of QUT's commitment to our community's health and safety we are monitoring the COVID-19 situation closely and following all the relevant advice from government agencies and global organisations. More details about QUT's COVID-19 advice.
Old Government House has decided to postpone the March to May 2020 season of Lady Diamantina Bowen Tours.
Ticket holders should check their emails for further details.
TOURS POSTPONED
In this guided tour of the House, you'll step back in time and become acquainted with one of Queensland's most influential women, Lady Diamantina Roma Bowen. A woman renowned for introducing a sense of elegance into the new colony and for establishing the social and cultural blueprint for the growing Brisbane community.
Queensland's impressive First Lady (1859 – 1868) makes a return to see how Brisbane has progressed since she laid some of its most vital social cornerstones. On your exclusive walk around, Lady Bowen will share her rich insights into life in early Brisbane.
You'll connect with Lady Diamantina on a more personal level over morning or afternoon tea as she hosts you exclusively on her private verandah.
Visitors will be inspired by Natalie Cowling's interpretation of Queensland's First Lady, Lady Diamantina Roma Bowen, as she gives you an exclusive and insightful tour of the House.
Natalie's passion for history and storytelling made the past come alive! I saw things I'd never seen before but pass by every day, and was constantly astonished.
Natalie Cowling: Brisbane's time traveller
Widely acclaimed as Brisbane's "time traveller" due to her deep enthusiasm for Brisbane's heritage and some of its most extraordinary leading ladies, Natalie's Brisbane Time Traveller Tours have become extremely popular. Natalie is an avid researcher, actor, dancer, musician and energetic tour host who is passionate about living in Brisbane and sharing its stories. In Natalie's words:
I love getting to the real essence of a story and sparking curiosity – bringing to life some of Brisbane's most fascinating moments and people across time involves taking a specialised approach to the way I deliver my experiences.
Place
Old Government House
When
CANCELLED
(17 March – 10 May 2020)
Duration
120 Minutes
Cost
$25 General admission
$22 Group bookings 10+
Presented by
Old Government House &
Brisbane Time Traveller Tours
Parking
On-campus parking during university semester and weekdays is limited, and we recommend using public transport. If you enter before 6pm on a weekday, please ensure you have your parking ticket validated at the Old Government House visitor desk to access the discounted rate of $5 per hour, or part thereof. For weekend visitors, a flat rate parking tariff of $10 applies. No validation necessary.