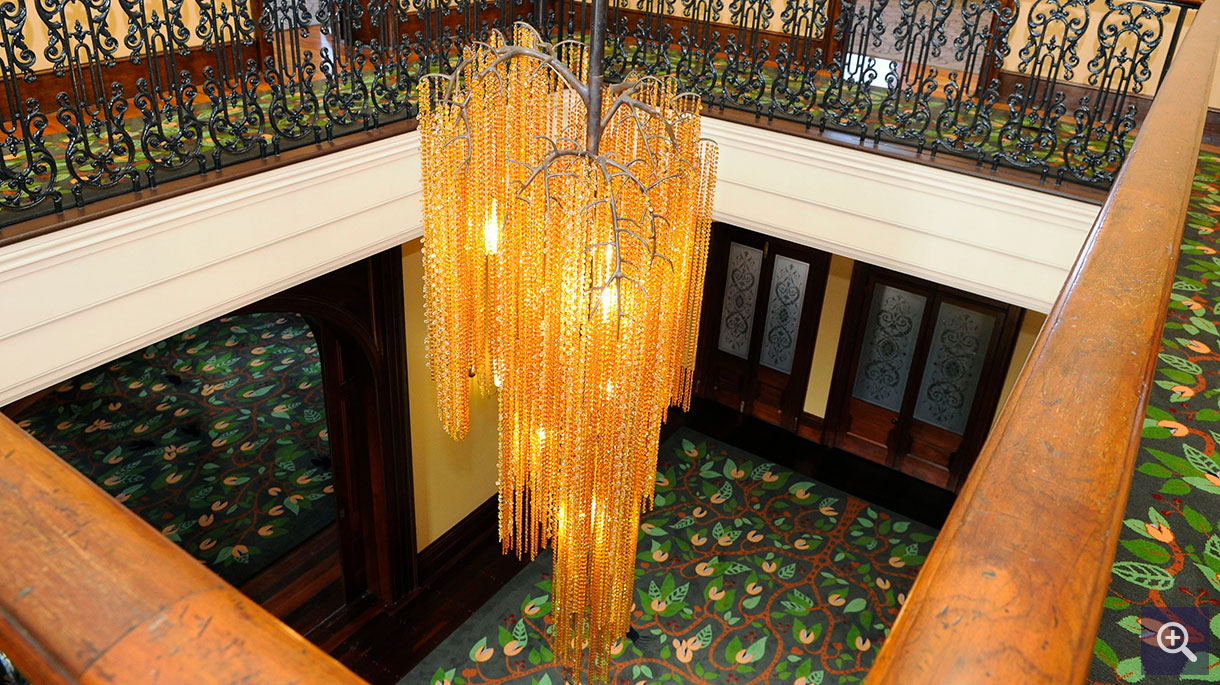 Extraordinary chandelier
The graceful cascade of golden Swarovski crystals in the reception hall of the House was designed by Belinda Smith from Urban Art Projects, Brisbane's art-based design consultancy founded by brothers and QUT Bachelor of Visual Arts graduates, Matthew and Daniel Tobin in 1993.
Urban Art Projects also manufactured and installed the chandelier which is titled "Inflorescent" and has a flourish of 52,000 glittering rich topaz and champagne Swarovski crystals from the Czech Republic falling away from a palm branch cast in bronze.
Ms Smith took her inspiration for the chandelier, one of the few obviously 21st century features of the House, from the weeping seed pods of the palms found in the nearby Botanic Gardens and the "botanic" theme of the "Tree of Life" design on the specially woven carpets.
"I wanted to create a chandelier for Old Government House that captured the essence of life in Queensland," Ms Smith said.
"I tend to make observations of my surroundings and draw elements from it that inform my artwork. The inflorescence of the Bangalow palm is a beautiful cascade of seeds that I immediately associated with a form that could translate into a chandelier. I think creating a unique chandelier that breaks with convention is also a great reference to the lifestyle here in Queensland."