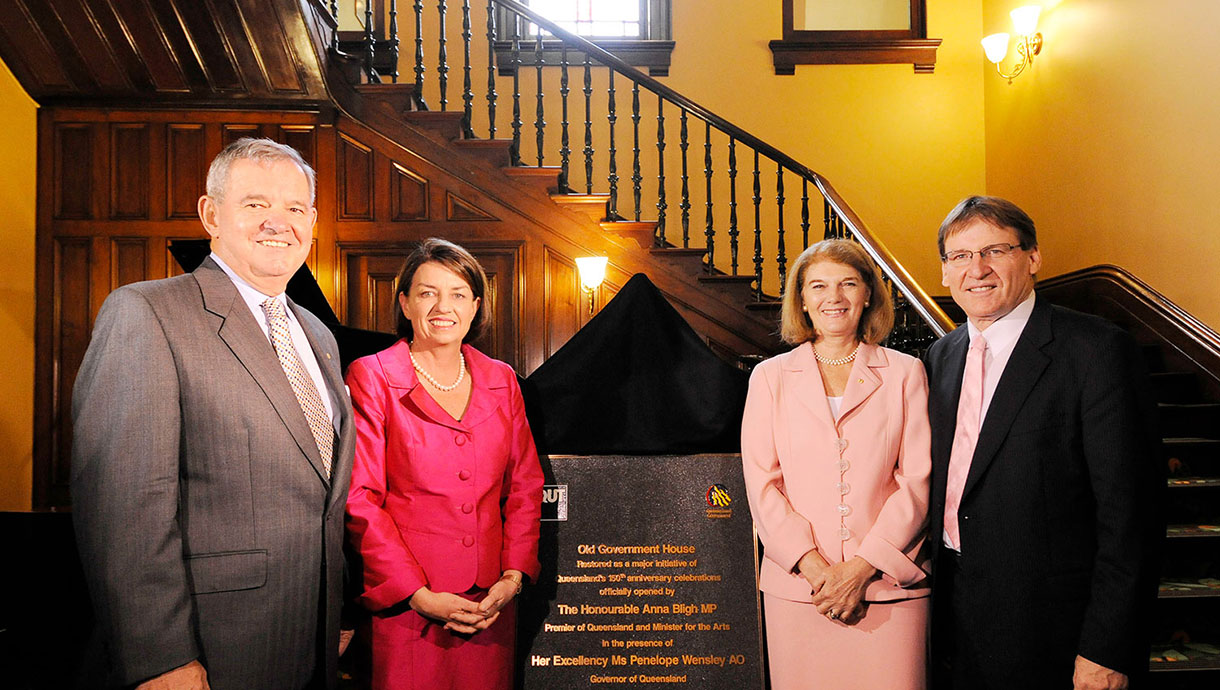 Premier Opens OGH
Old Government House opens to the public, following an official opening ceremony by the Hon. Anna Bligh, MP, Premier of Queensland on Sunday 7 June, 2009 to mark Queensland's 150th anniversary.More than 400 people had been involved in the restoration of Old Government House, which had taken five years and cost $15 million.
Once the formalities concluded, crowds began lining up outside, eager to be among the first to explore the newly restored House; over the two open days more than 4000 visitors toured the building.
Families were engaged by interactive displays including a virtual house recreation set in the year 1900, and an interactive panorama of Brisbane photographed in 1872. Other displays revealed the roles of The House as an administrative centre for the colony, a social hub in colonial Brisbane, and of course as a family home for Queensland's first eleven governors.
The opening had a 'High Tea' theme featuring lamingtons made to the original recipe, celebrating their creation at Old Government House over 100 years ago by the French chef of the time, Armand Galland.
Among the guests present were 61 members of the Jeays family, representing their ancestor Joshua Jeays, who built The House between 1860 and 1862. The Jeays family has been in the building industry ever
QUT's restoration of this treasured landmark is a major initiative of Queensland's 150th anniversary celebrations and QUT acknowledges the support of the Queensland Government and the National Trust of Queensland in this project.
The House museum is freely open to the public six days a week from Sunday to Friday, 10am to 5pm.