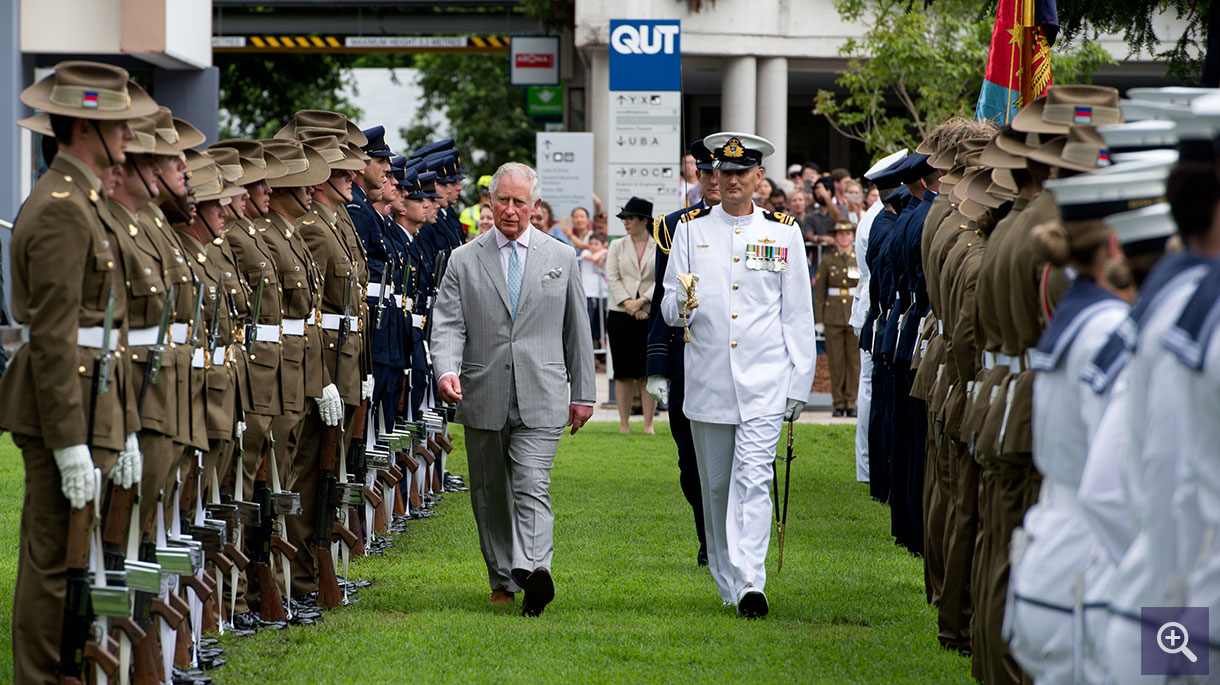 Royal Visit 2018
Their Royal Highnesses Prince Charles and Camilla, Duchess of Cornwall, were welcomed to Queensland at Old Government House on 4 April 2018. Their visit was part of their Australian tour in which The Prince, representing the Queen, also opened the 2018 Gold Coast Commonwealth Games.
On arrival, the Prince and Duchess were greeted by Governor-General Sir Peter Cosgrove and Lady Cosgrove, then signed the Old Government House visitor's book and posed for photographs. Also welcoming the Royal couple was the Federal Minister for Home Affairs, Peter Dutton, who was representing Prime Minister Malcom Turnbull, as well as Queensland Governor Paul de Jersey, and Queensland Premier Annastacia Palaszczuk.
A 21-gun salute was fired from Kangaroo Point, followed by Prince Charles inspecting the guard, stopping to chat to army, navy, and airforce personnel. God Save the Queen and the Australian anthem were sung before the pair took a short stroll through Brisbane's Botanic Gardens to greet an excited crowd of royal fans hoping to meet the couple.
The Prince and the Duchess enjoyed some private time in Old Government House before heading to their next engagement at the Lady Cilento Children's Hospital.
The Prince's great-grandparents, the Duke and Duchess of Cornwall and York, were the last Royal visitors to Old Government House when it served as Queensland's official vice-regal residence and office from 1862 to 1910. The Duke and Duchess of Cornwall and York stayed for four days at the House in 1901, as part of their tour commemorating the Federation of the Commonwealth of Australia.