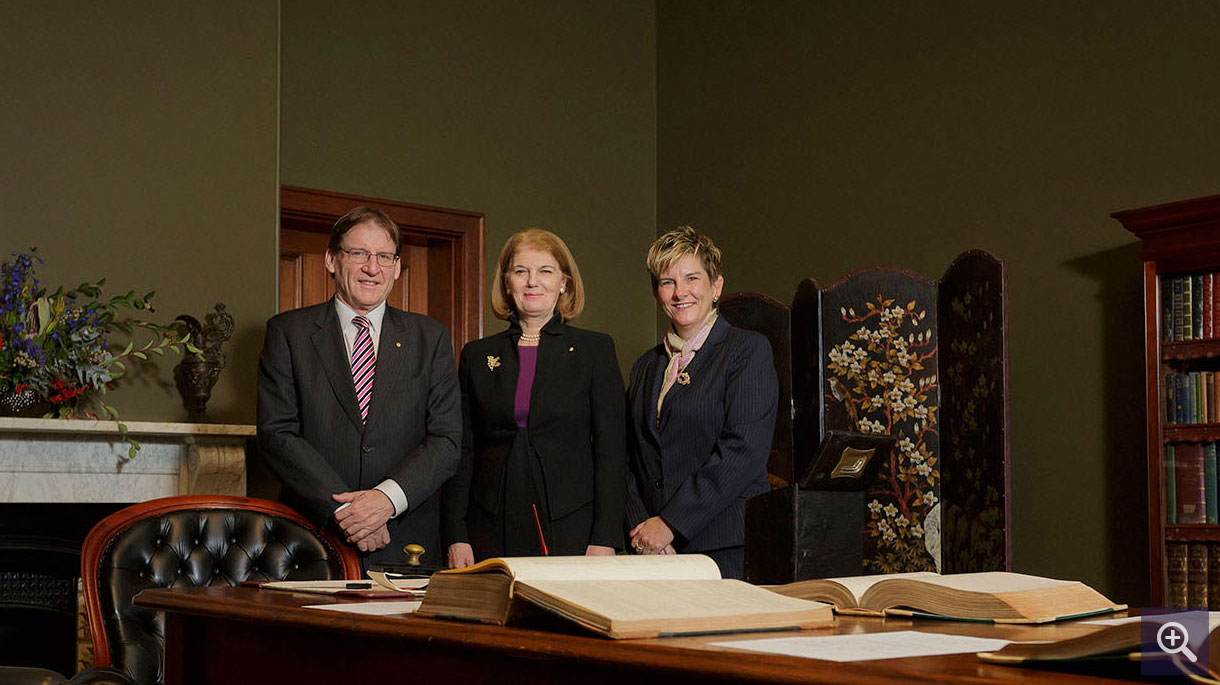 The Governor's Library
Old Government House was honoured to have Her Excellency Ms Penelope Wensley to officially open the refurnished Governor's Library on Wednesday 29 May. The Speaker of the Parliament Hon. Fiona Simpson was also present and acknowledged the room's significance to the State's political past.
The Governor's Library was the hub of power during the House's vice-regal era (1862 - 1910) from which Queensland's early development was directed and all the important decisions were made.
"This room is where Queensland developed. Anyone who was anyone in the political, business and social worlds of the time would have come here to meet the Governor because he was the highest power in the State," said QUT Vice-Chancellor and chair of the Queensland Heritage Council Professor Peter Coaldrake.
"The refurnishing of the Library is another step in QUT's ongoing commitment to making our heritage associated with Old Government House open and accessible to the public." He said.
Old Government House curator and QUT historian Dr Katie McConnel said that the project had first started with the gift of the 1870s bookcase, which had been donated to give an impression of what this important room would have looked like during the House's vice-regal era. Donated by the Dunstan family, it was first owned by George Raff, a member of Queensland's first Parliament who would have been in that room hundreds of times.
"The Library was the Governor's office where the business of the colony was carried out. It would have been a hive of activity from 1862 when the first governor, Sir George Bowen, moved in and set up the government structure." said Dr McConnel.
"The room would have remained the seat of administrative matters until June 1910 when the 11th Governor moved to Fernberg."
Having no photographs, an 1896 furniture list was used as a guide in furnishing the room to present an idea of how it looked in colonial times. All the furnishings have been donated, given on extended loan or bought with money gifted to Old Government House.
The refurnished room gives an impression of how the library looked in the colonial era and reflects its vital part in the history of Queensland. Now open to the public, the room features a 3.6 metre library table, "library" chairs and a 19th century bookcase filled with bound parliamentary records. It will be used as an education centre.